For those of you collecting a complete set of Topps for each year; Baseball Card Advisers has great news for you. The 1964 Topps Baseball Cards Set is one of the easiest of all vintage sets to put together. The 1964 Topps set is very inexpensive and even in high grade, isn't more than a couple thousand dollars.
There is only 1 real Hall of Fame rookie notable in this set. #541-Phil "Mr. Knuckleball" Niekro has this honor. The rest of the sets consists of mainly commons other than the handful of stars that aren't that expensive: #50-Mickey Mantle, #125-Pete Rose, #150-Willie Mays, #200-Sandy Koufax, #300-Hank Aaron, and #440-Roberto Clemente. Baseball Card Advisers has found this set is plagued with some of the problems of miscuts and off-center cards that the late 1950s also have. For this reason, finding centered cards, which is difficult, will bring a small premium.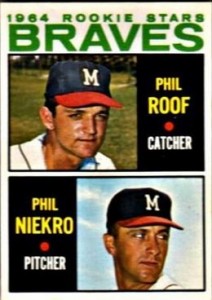 If you are looking to sell your collection of 1964 Topps Baseball Cards; Baseball Card Advisers is a great tool to use. We have qualified cash buyer, auction contacts, and many other sources to help you sell the collection. Contact us first to find out what you really have!