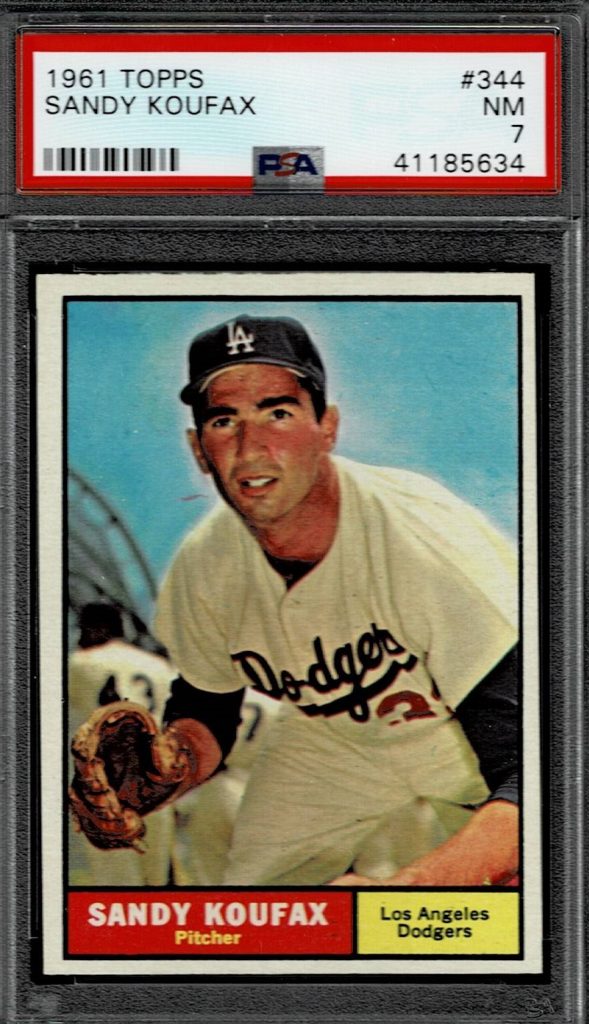 The 1961 Topps baseball card set is gorgeous. This is a Baseball Card Adviser top 5 set from the 1950s and 1960s.
Tough Set to Complete
If you want a challenge, step up to this set. There is huge fire power in the first 1-522 cards. And just when you think you have it complete, the scarce final series sneaks up and bites you. Be prepared to pay a chunk of cash to get the final numbers of 523-587.  This final series came out late in the year and many of the stores already had inventory. For this reason, many of the final series cards were not available and have now become difficult, thus commanding a premium. Baseball Card Advisers has been involved in many transactions where the high numbers alone cost more than the entire rest of the set! The low numbers have a host of rookie cards with #35-Ron Santo, #141-Billy Williams, and #417-Juan Marichal.
Hall of Famers
The Hall of Famers include: #2-Roger Maris, #150-Willie Mays, #290-Stan Musial, #300-Mickey Mantle, #344-Sandy Koufax, #388-Roberto Clemente, #415-Hank Aaron, and #478-Mickey Mantle MVP. The high numbers include the stars of #576-Roger Maris All-Star, #577-Hank Aaron All-Star, #578-Mickey Mantle All-Star, and #579-Willie Mays All-Star. A really difficult card in the set is the final card # 589, Warren Spahn.
Baseball Card Advisors says if you are going to take a shot at this set; take your time. Gary Leavitt suggests you look at a midgrade set in order to make this one affordable. Contact Gary Leavitt for more information about buying and selling the 1961 Topps baseball card set.