The Roger Maris Rookie Card From 1958. Card # 47: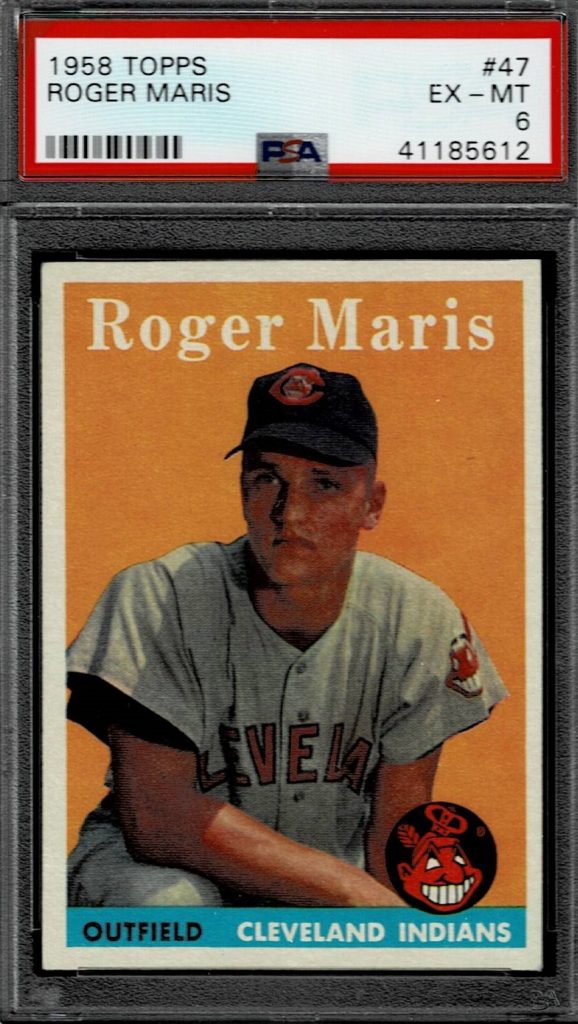 Roger Maris Rookie Card
Roger Maris was one of the great hitters of his generation. Unfortunately, when you play for the New York Yankees in the 1960s; you compete for attention with Mickey Mantle. Fortunately, they both have great baseball cards. In fact, the 1958 Topps Roger Maris Rookie Card is a highly desirable card.
Many people don't now this, but Roger Maris started his career with the Cleveland Indians. His 1958 rookie card shows him in a Cleveland Indians uniform. He was traded the following year to the Kansas City Athletics. It wasn't until 1960 that he became a Yankee. In his first game ever as a Yankee, Roger hit 2 home runs, a double and a single.
In 1961 Roger Maris broke the single season record for home runs in a season. It was controversial as the previous record was 60 by Babe Ruth in 1927. There were only 154 games that season and in 1961 there were 162 games. Many people say it was controversial that it was "Babe Ruth's" record.
Popular New York Yankee Player to Collect
Roger Maris will always be a popular player to collect. When we meet "player" collectors; they almost always have Roger Maris as one of the players. Fortunately, you can purchase Roger Maris cards for an affordable price; unlike his buddy Mickey Mantle.
His cards range from 1958-1968, where he ended his career with the St. Louis Cardinals.
Contact us if you have questions about selling or buying Roger Maris Baseball Cards or any other cards from the 1958 topps set.
Roger Maris Baseball Cards
1958 Topps # 47
1959 Topps # 202
1960 Topps # 377
1961 Topps # 2
1962 Topps # 1
1963 Topps # 120
1964 Topps # 225
1965 Topps # 155
1966 Topps # 365
1967 Topps # 45
1968 Topps # 330